Hair extensions are a popular choice for those seeking an instant transformation, whether to add length or volume to their natural hair. If you're new to hair extensions, you probably have many questions about the various types available, how they work, application methods, their worth, and more. In this guide, we'll introduce you to different types of hair extensions, including clip-in, tape-in, sew-in, flip-in, cold fusion, and hot fusion. By the end, you'll have a better understanding of which hair extension type suits you best.
It's essential to note that real human hair extensions are preferable to synthetic ones. Human hair extensions offer the advantage of being styleable and colorable to match your natural hair, ensuring a seamless blend.
Different Types of Hair Extensions
There is a wide array of hair types and application methods to choose from, allowing you to explore until you discover the ideal look that fits within your budget. Before delving into the diverse application techniques, let's first distinguish between the two primary categories of hair extensions: real human hair extensions and synthetic hair extensions.
"Human hair extensions, as the name suggests, are crafted entirely from authentic human hair, sourced from donors. These extensions retain all of their cuticles (the hair's outer layer), which run uniformly in one direction at the time of collection. This characteristic virtually eliminates tangling and guarantees that the extensions maintain their smooth and silky texture throughout their lifespan.
In contrast, synthetic hair extensions are created using a blend of various synthetic fibers, devoid of any human hair. These fibers are typically finely crafted plastics designed to mimic the appearance of real human hair.
Now, let's explore some of the most common types of extensions available.
Tape-In Extensions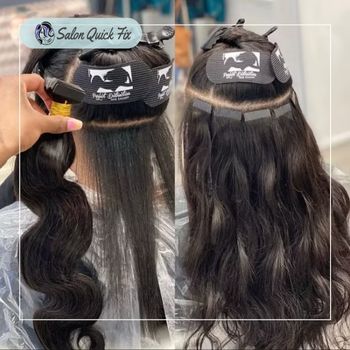 Tape-in extensions fall under the category of semi-permanent extensions. They share similarities with clip-ins but offer a longer-lasting solution as they are secured to your hair with adhesive tape. Despite their presence, they are remarkably lightweight, ensuring you don't feel burdened even when wearing a full set.
The application of tape-ins is a job for professionals, and they can maintain their quality for approximately two months before requiring upkeep. The advantage of this method is that the hair can be reused for future applications.
Clip-In Extensions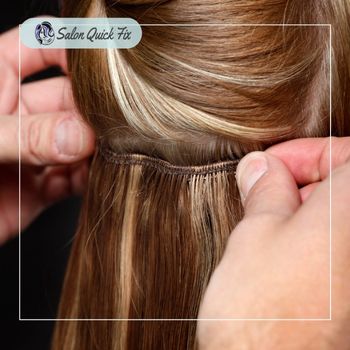 Clip-in extensions are perhaps the most convenient and time-efficient way to add length, thickness, and volume to your hair. What sets them apart is that you don't need a professional's assistance to install them.
High-quality clip-ins are designed to look and feel natural, ensuring longevity that spans years. The beauty of clip-ins lies in their lack of commitment, allowing you to fit and style them according to your preferences.
These extensions attach to your hair via clips, making them ideal for occasions when you desire a temporary change without committing to something permanent. Typically, you remove them after a day's use, but they can be reused extensively. In today's market, clip-ins are available in various lengths, textures, and colors, often sold in convenient packs.
Keratin Bond/Pre-Bonded Extensions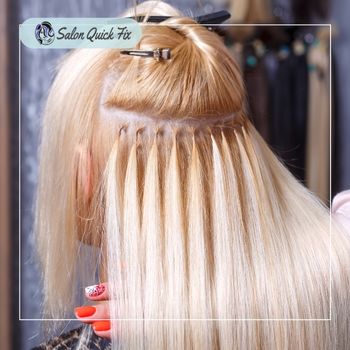 Bonds are created by fusing keratin to your hair using a heat gun. This meticulous process can span a few hours because, similar to microlinks, each extension is meticulously attached to your natural hair individually until the desired appearance is achieved. While not permanent, these bonds offer a lasting effect, typically up to four or five months, contingent on personal maintenance.
Microlink Extensions
Microlinks, sometimes referred to as micro rings or microbeads, offer a well-liked alternative to both sew-in weaves and tape-in extensions. These extensions are typically affixed to individual hair strands using tiny tubes or rings. What distinguishes them is their reputation for being a safer option compared to other extension methods, as they avoid placing excessive weight or stress on the hair and scalp, thus minimizing potential damage. Additionally, microlinks do not necessitate the use of glue or adhesive, rendering them less conspicuous when integrated into your hair.
Sew-In Weaves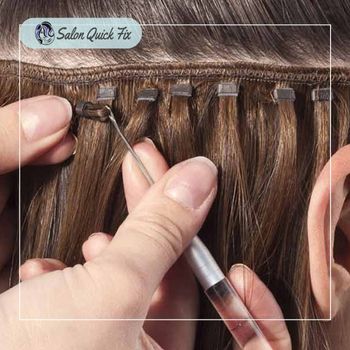 The installation of a weave is a more involved process that typically requires the expertise of a hairstylist. The hairstylist begins by braiding the hair into a specific pattern, often referred to as a beehive or straight-back cornrows. Following this, bundles or "tracks" of hair are sewn onto the braids. The duration of this process can vary, ranging from two to six hours, contingent upon factors such as the number of bundles being installed (typically two or three) and the swiftness of the stylist.
Weaves can maintain their appearance for approximately six to 10 weeks. However, it's essential for individuals wearing weaves to remain diligent in caring for the hair beneath the weave during this time.
Quick Link: Hair Thinning: Causes, Effects, and the Fine vs. Thin Hair
How do hair extensions work?
There are several kinds of hair types of hair extensions & the application process of every hair extension is different. So let's get to know how each hair extension type works:
How do clip-in hair extensions work?
The clip-in approach is excellent if you don't want to wear your hair extensions all the time since you can quickly remove them afterward.
Comb your hair in a horizontal section 2 inches above the nape of the neck with the rat-tail comb.
Use hair clips to hold the hair above the part.
Clip the weft to your natural hair by positioning the hair's clips at the base of your hair and securing it with a downward motion.
Clip the hair clips near the root of your hair and then clip them down to attach the weft to your hair.
Using a straightener, curling iron, or blow dryer to style your hair, whether it's human hair or heat-friendly synthetic extensions, may help you achieve a more professional appearance.
Here you have worked on your clip-in hair extensions.
How does tape in hair extensions work?
It's a good idea to use tapes in hair extensions because they're easy to put on, speed up the process, and are clean.
Make a horizontal part with your finger or a comb about an inch from your nape. Then, apply the tape to hair extensions at the part line.
All hair above the part line may be secured with a hair tie or clips.
Remove a strand of hair from the unclipped side. So the adhesive tape on both extensions may stick through the hair.
Lift a strand of hair. Remove the adhesive cover on the bottom extension. Lifting the thin strand of hair from the bottom extension.
Take top hair extension tape. Remove the adhesive tape covering the extension and push on your hair strand. They should be glued together.
Repeat this method over your side portion until you've inserted all the extensions.
Brush your hair at least twice a day when wearing extensions to keep it appearing natural.
How do the halo hair extensions work?
Only Halo Hair Extensions protect natural hair. Since they're not connected, halo hair extensions are light on natural hair. They really develop a halo around your head.
Comb through your hair to remove tangles. Then, follow our Loop Hair Extensions Brush or a paddle brush to remove your halo and 2-clip wefts.
Section your hair at the crown and tie it into a bun. To get a natural look, leave off the front hair portions.
Position your halo over your bun where you separated your hair, using the wire length that best suits your head. Like a headband, it should fit snugly over your ears.
Attach a 2-clip weft at the temple of your head, two inches above your ear, starting with the clip closest to your hairline.
Remove your bun and brush through your hair to smooth out the wefts and halo.
How do hand-tied hair extensions work?
Hand-tied hair extensions resemble beaded wefts in appearance, but they cover a larger surface area of your scalp than beaded wefts. Hand-tied wefts are smaller, lighter, and thinner than traditional wefts. They are also substantially bigger.
At least five hours are required to complete the installation of hand-tied extensions. So it is best to leave the application of hand-tied extensions to a professional.
Those extensions should last between six and eight months after they've been installed.
How do 6D hair extensions work?
The 6-dimension hair extension technique is a novel kind of hair extension installation in which many strands of hair are placed together. It's a simple procedure that doesn't need the use of tapes, chemicals, or clips. Instead, a 'gun' filled with glue-tipped human hair is utilized, and a complete head of hair takes roughly 20 minutes.
Cover the top of the head with a tiny coating.
Take a little part of the hair and hold it close to the scalp but not too close (width of 5cm and thickness of 0.5 to 1cm).
Toggle the button to see the area with the slot.' Then, insert the hair extensions into the card slot.
Place your little natural hair segment between the extensions and the cannon. Place hair evenly in the slot, then push and hold as near to the scalp as possible.
After clamping, slowly take out the plastic card, then place it in the top section of the machine, and hold it securely.
The clamps will shatter the plastic, making it easier to remove and leaving an undetectable, flawless blend. This is the most critical part of the operation.
Then, insert the extensions in the hair.
Read More: 15+ Best Haircuts For Thin Hair In 2023
How do hair extensions work on short hair?
Bob is the ideal length for adding extensions to shorter hair since it allows you to use any sort of clip-ins. The minimum length is 3 inches, but with a cut so short, you'll need to use semi-permanent hair extensions.
You will have a fresh and elegant style with semi-permanent tape in hair extensions for short hair, and no one will be able to see or feel the extensions.
It will be more difficult to blend your hair if it is shorter than your natural hair, particularly if you are using considerably longer hair than your natural hair.
While it's best to hire a professional for the installation, you can learn how to make your hair long using clips.
Section your hair so that the majority of it is secured at the crown of your head.
You need to tease your strands and begin cutting the wefts from underneath in order to properly secure the clip-ins.
Putting in hair extensions with short hair is simpler than you would think, and all you need is practice.
This is how you will be able to hide the extensions in short hair.
How long does your hair have to be for extensions?
The minimum length of hair needs to be at least 3-4 for normal extensions to be attached to the hair. However, if you are getting any other kind of hair extensions then, the natural hair may need to be longer. Here are the minimum hair lengths for various kinds of extensions:
Micro-rings need hair that is at least 4 to 5 inches (10 to 12 cm) long in order to cover them completely.
Hair must be at least 3 to 5 inches (7-12 cm) in length to be used in hair weaves. However, to hide the job perfectly, you'll need a highly trained stylist.
Your hair must be between 2.5 and 4 inches (6 and 10 centimeters) long if you want to try out I-tips.
Hair at least 2 to 3.5 inches (5-9 centimeters) long is required for keratin extensions, also known as U-tip extensions. The process of installing U-tips typically takes between 2-4 hours.
How do hair extensions work for thinning hair?
Tape-in hair extensions are the best option for ladies with fine or thin hair.
Tape extensions are 1.5″ broad wefts that are put row by row and taped to your own hair (like sandwiches in between your own hair). The weft tape is very thin and light, and as a result, it does not cause any harm.
The single technique application is an advantage of these hair extensions for thin hair. One tape-weft hair extension is put on the hair, and the other side is bonded with a single-sided piece of tape instead of gluing two tape-weft hair extensions together.
You don't need any equipment or chemicals to apply for tape-in extensions. Also, unlike other firms, Glam Seamless Hair doesn't need any additional adhesive or flat iron for styling.
How much do hair extensions cost?
While some hair extensions might cost as low as $20, some can cost as much as $3000. Those are the ones we would advise you to avoid.
Between $200 to $500 is the usual price for decent non-permanent hair extensions—for example, clip-ins or haloes.
Permanent extensions performed by a professional cost anywhere from $600 to $3000.
Based on hair extensions types, Clip-in hair extensions may cost as much as $350 or $400 for high-quality ones.
Tape-in extensions can cost around $1000 & for follow-up appointments, the cost can be around $400.
Beaded Hair Extensions can cost $600 to $2500 and maintenance from $300 – $600.
How long do hair extensions last?
Sew-in extensions should be changed every six to eight weeks, and micro-link extensions can last up to four months, but they must be repositioned every two to three months as your hair grows.
Glue and tape extensions should be replaced every four to eight weeks. Cli-In extensions on the other side last up to six to eight months.
How to hide extensions in very short hair?
Now you have probably decided which extension to go for; there is still one issue. Some type of extension usually shows up in your hair which does not look good. So, they need to be hidden. Here are the ways through which you can hide extensions in very short hair:
1) Choose short extensions
These are the extensions you should get if you have short hair because they look more like your own hair. Make sure to buy extensions that are between 16 and 18 inches long when you go shopping. If your hair is shorter than your chin, you can even get extensions that are shorter than your hair is.
2) Get thick extensions
This is another great way to hide extensions. You can get thick extensions to do this. This is due to the fact that thin extensions don't integrate well if your hair ends aren't becoming thinner. So there is no need to worry about the hair transition when you use thick extensions.
3) Match the color of your hair with extensions
You must ensure that the extensions you purchase match your natural hair color in order to give the appearance of longer hair. Also, make sure the extension's color isn't too different from your natural hair color so that you can easily color it.
4) Curl or straighten the extensions
In addition to style choices, extensions may be hidden with the help of different hairstyles. Combining both your natural hair with extensions is a great way to get a variety of styles.
5) Use fewer wefts
A weft is a clip-in segment of hair that you connect to your own hair. In order to add length and volume to your hair, you may use many wefts. However, using just one or two wefts makes it easier to conceal the extensions.
Find Here: What to do with a bad haircut too short?
Do hair extensions ruin your hair?
Due to a lack of alternatives, hair extensions had a skewed reputation in the past. With improperly made clips, clip-in extensions have been known to be visible in your hair and inflict stress on your hair follicles.
But now, there are several hair extension options available these days that are gentle on the hair and do no harm.
You should always consult a specialist while getting extensions to ensure you receive the correct length and kind of hair extensions.
To always get the right extensions & avoid any damage to your hair, you should follow the following points.
1) Choose Remy Hair
You should consider your hair extensions as extensions of your own. Remy Human Hair Extensions are the best option if you want your extensions to seem natural rather than synthetic.
2) Choose the length & quantity of hair needed.
We recommend that you do your homework, consult with a professional, and figure out how many hair extensions you'll need depending on your present hairstyle. For example, hair that is longer than shoulder length and of a thin to medium thickness is a good candidate for 20″ Halo Extensions.
3) Match Extensions with hair color
Your extensions must match your hair color perfectly to blend in smoothly with your original hair. We suggest looking at your hair in the light of the sun to get a sense of what color it should be.
Bottom Line
In conclusion, this comprehensive hair extension guide for beginners in 2023 serves as your roadmap to achieving the hair transformation you desire. Whether you're considering clip-ins, tape-ins, bonds, microlinks, or weaves, we've covered the key aspects of each method, their pros and cons, and the maintenance required to keep your extensions looking fabulous.
This was all about the minimum hair length to get extensions. We hope now you have got the appropriate & satisfactory answer to your query; on hair extensions
Please let us know your thoughts & suggestions in the comments below!
Thank you for reading!